Anki and Siri on Mac OSX for Flashcard Drilling
---
I've been burshing up my Mandarin for an upcoming trip and have come up with a new flashcard tactic to drill both recall and pronunciation simulatenously.
For flashcards, I use Anki, known for its spaced repetition approach, and sometimes only add a recall based card (with the thought that if I can recall a word, then I will likely be able to recognize it).
On Mac OSX, I have been placing it side by side with Siri (activated by holding command-space), and pronuncing it as well.
Below is an example where the card is "monster" and it expects 怪兽 (guàishòu).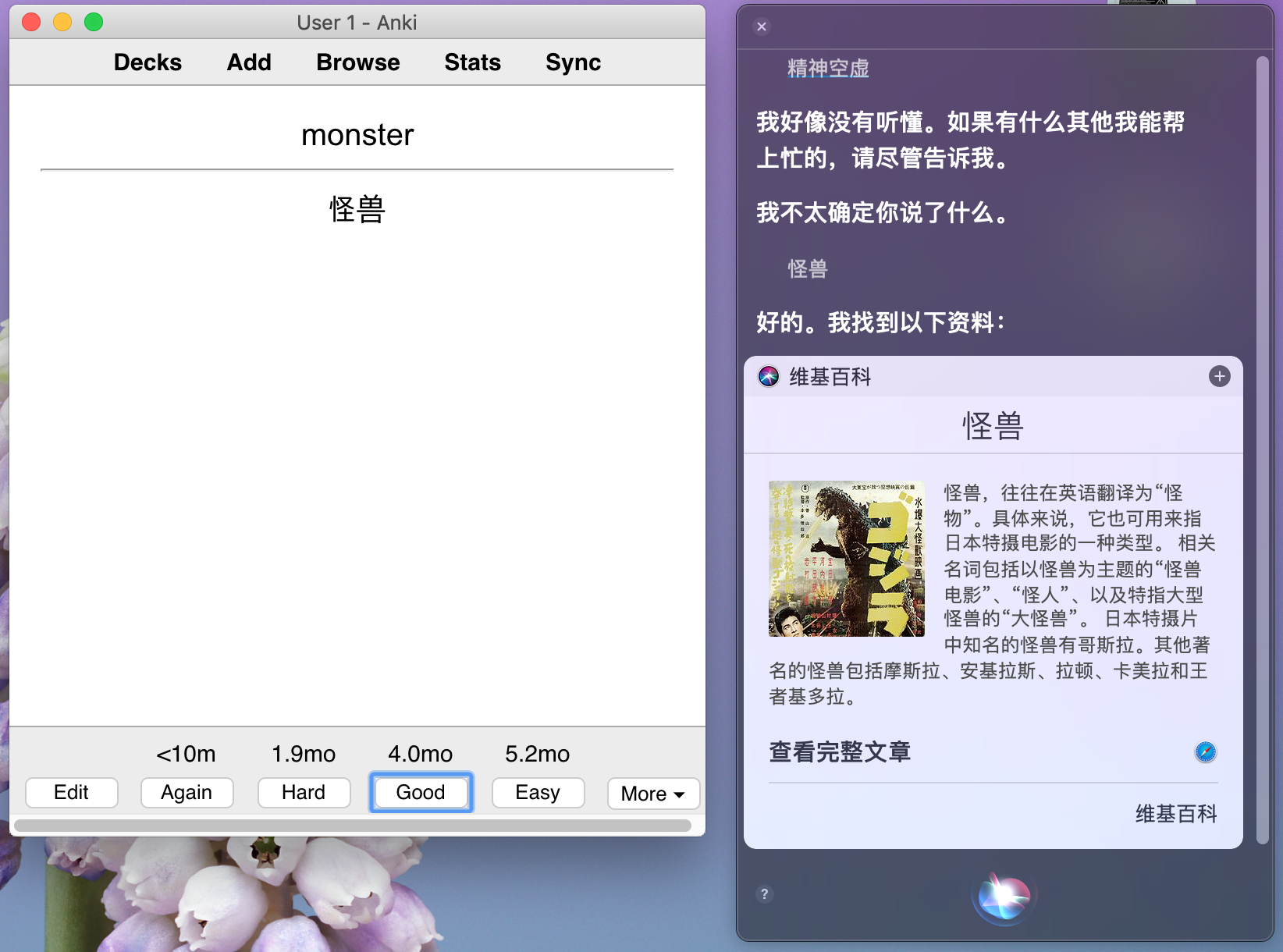 ---
---
---
Archive
chinese
tang-dynasty-poetry
李白
python
王维
rl
pytorch
numpy
emacs
杜牧
spinningup
networking
deep-learning
贺知章
白居易
王昌龄
杜甫
李商隐
tips
reinforcement-learning
macports
jekyll
骆宾王
贾岛
孟浩然
xcode
time-series
terminal
regression
rails
productivity
pandas
math
macosx
lesson-plan
helicopters
flying
fastai
conceptual-learning
command-line
bro
黄巢
韦应物
陈子昂
王翰
王之涣
柳宗元
杜秋娘
李绅
张继
孟郊
刘禹锡
元稹
youtube
visdom
system
sungho
stylelint
stripe
softmax
siri
sgd
scipy
scikit-learn
scikit
safari
research
qtran
qoe
qmix
pyhton
poetry
pedagogy
papers
paper-review
optimization
openssl
openmpi
nyc
node
neural-net
multiprocessing
mpi
morl
ml
mdp
marl
mandarin
macos
machine-learning
latex
language-learning
khan-academy
jupyter-notebooks
ios-programming
intuition
homebrew
hacking
google-cloud
github
flashcards
faker
docker
dme
deepmind
dec-pomdp
data-wrangling
craftsman
congestion-control
coding
books
book-review
atari
anki
analogy
3brown1blue
2fa