New York City Helicopter Lesson Plan
---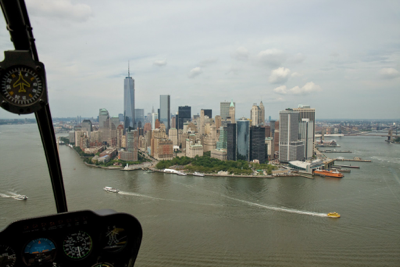 In this lesson, the student shall plan and conduct a cross-country flight from Hanscom Field (KBED) to New York City, with a tour through the Hudson River and optionally the East River VFR corridors, and then back to Hanscom.
This lesson is best suited for a private helicopter pilot working on their commercial helicopter rating, but may be adapted to any rated helicopter pilot interested in NY airspace.
Homework Assignments
Answer the following questions on your own before showing up for the lesson:
Where will we enter and exit the Hudson River VFR corridor?
Do we have to fly through any of the New York Class B airspaces?
If so, who should we call and on what frequencies?
When we are flying in the Hudson River corridor, who will we talk to? What about the East River?
At what altitude and airspeeds should we fly?
What are our reporting points?
Flight Elements
Ground discussion (30 minutes)
Preflight (45 mins)
Flight (5-6 hours)
Post Flight Debriefing (20 mins)
Equipment
Robinson R44 Helicopter Booking
New York Sectional
New York Helicopter Route Map
Airport Facility Directory
Completion Standards
The student shall demonstrate the proficiency to conduct a similar cross-country independently. The student shall handle the majority of radio work and fly at appropriate airspeeds and altitudes, particularly in and around New York Class Bravo airspace, the Hudson River, and the East River.
---
---
---
Archive
chinese
tang-dynasty-poetry
李白
python
王维
rl
pytorch
numpy
emacs
杜牧
spinningup
networking
deep-learning
贺知章
白居易
王昌龄
杜甫
李商隐
tips
reinforcement-learning
macports
jekyll
骆宾王
贾岛
孟浩然
xcode
time-series
terminal
regression
rails
productivity
pandas
math
macosx
lesson-plan
helicopters
flying
fastai
conceptual-learning
command-line
bro
黄巢
韦应物
陈子昂
王翰
王之涣
柳宗元
杜秋娘
李绅
张继
孟郊
刘禹锡
元稹
youtube
visdom
system
sungho
stylelint
stripe
softmax
siri
sgd
scipy
scikit-learn
scikit
safari
research
qtran
qoe
qmix
pyhton
poetry
pedagogy
papers
paper-review
optimization
openssl
openmpi
nyc
node
neural-net
multiprocessing
mpi
morl
ml
mdp
marl
mandarin
macos
machine-learning
latex
language-learning
khan-academy
jupyter-notebooks
ios-programming
intuition
homebrew
hacking
google-cloud
github
flashcards
faker
docker
dme
deepmind
dec-pomdp
data-wrangling
craftsman
congestion-control
coding
books
book-review
atari
anki
analogy
3brown1blue
2fa